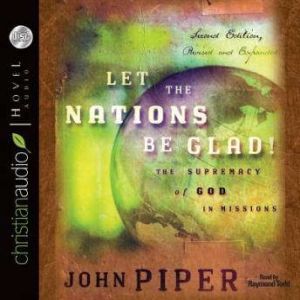 Synopsis
Why do we do missions? We are told, by Jesus, to preach the gospel and make disciples of all nations. So missions is duty, right? Wrong. If you do missions purely from a sense of duty you will not honor those you are reaching out to, nor will you truly honor God. Duty is the wrong place to look, so where do we find the answer to why we do missions? We turn, according to John Piper, to worship. // In our worship of God we encounter God's glory. The overflow from our worship is a desire to share God's glory with others (the chief end of man is to glorify God and enjoy Him forever), and we naturally become missional. When Jesus was asked what the kingdom of God was like, he compared it to a pearl so valuable that one would sell all they owned simply to possess it. Does that seem like duty to you? Instead, Jesus calls us to a new mindset, which flows from the mindset that worship creates in us. Thus, according to Piper, does worship become the goal of missions and the fuel which makes missions possible. // Worship as the fuel for missions makes sense to a lot of people, but worship as the goal of missions? Piper reminds us that the true reason we share God with others is to make them worshipers (and sharers) as well. He feels that the true goal of missions is "the gladness of the peoples in the greatness of God." If it is true, (as Piper states) that "God is most glorified in us when we are most satisfied in Him," then increasing the number of people who are satisfied in God will bring God more glory. And missions is the way we can do that. // Missions must be seen as more than simply saving people from sin, though that is a very important aspect. And missions is not just about getting people into heaven, although that is important as well. Instead, through missions we should always seek to make as many people as possible into true worshipers, into those fully satisfied with the greatness of God. // With that mindset, missions becomes a joyous experience, as we joyfully share the life-changing presence of God in our lives with those who don't know God. When we have made worship both the fuel and goal of all our missionary endeavors, we realize that "missions is not a recruitment project for God's labor force. It is a liberation project from the heavy burdens and hard yokes of other gods." Missions is never a burden, because it comes out of our overwhelming joy in God's grace and mercy, and we just want to share that joy. So make God the center of your missions work, and joyfully share what He has graciously given to you.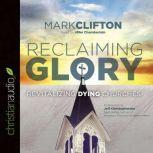 Reclaiming Glory
by
Mark Clifton
What is there about a dying church that brings glory to God? Mark Clifton's convicting answer is "Nothing." Because a local church is intended to represent the work of God in a community, when that church "loses it saltiness," not only is God...
Narrator: Mike Chamberlain
Published: 06/01/2016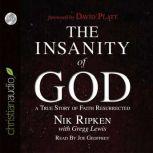 The Insanity of God
by
Nik Ripken
The Insanity of God is the personal and lifelong journey of an ordinary couple from rural Kentucky who thought they were going on just your ordinary missionary pilgrimage, but discovered it would be anything but. After spending over six hard ye...
Narrator: Joe Geoffrey
Published: 08/01/2015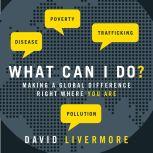 What Can I Do?
by
David Livermore
While a€œmissionsa€ used to be the territory of experts and missionary professionals, globalization has made the issues and needs of our world accessible to average Americans. Many American Christians feel overwhelmed by the scope of...
Narrator: Tom Parks
Published: 02/22/2011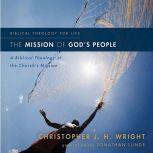 The Mission of God's People
by
Christopher J. H. Wright
Chris Wright's pioneering 2006 book, The Mission of God, revealed that the typical Christian understanding of "missions" encompasses only a small part of God's overarching mission for the world. God is relentlessly reclaiming...
Narrator: Christopher J. H. Wright
Published: 09/07/2010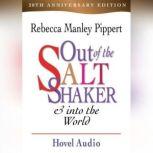 Out of the Saltshaker and Into the World
by
Rebecca Manley Pippert
Evangelism isn't something you do, it's a world-changing way of life. Rebecca Manley Pippert shows how we as Christians, who are called to be the salt of the earth, can get out of the saltshaker and into life itself. // People crowd the ...
Narrator: Rebecca Manley Pippert
Published: 10/01/2005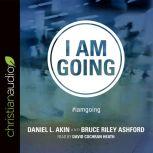 I Am Going
by
Daniel L. Akin
Are You Going? The lives of many believers rarely escape the tight orbits that circle around their own schedules, their own interests. The familiar gravity of familiar places. But the trajectory of our faith should be one that's continually cy...
Narrator: David Cochran Heath
Published: 10/01/2016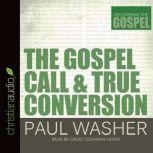 The Gospel Call and True Conversion
by
Paul Washer
The apostle Paul gave the gospel the first place in his preaching, endeavored with all his might to proclaim it clearly, and even went so far as to pronounce a curse upon all those who would pervert its truth. Yet how sad it is that many, even among...
Narrator: David Cochran Heath
Published: 01/11/2016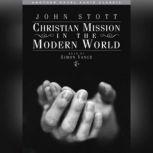 Christian Mission in the Modern World
by
John Stott
In recent years, the mission of the church has been defined in two almost exclusive ways. On the one hand are those who say the church must focus on evangelism and discipleship alone. On the other hand are those who advocate concentrating almost sol...
Narrator: Simon Vance
Published: 03/01/2005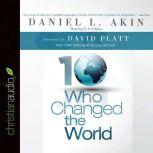 Ten Who Changed the World
by
Daniel L. Akin
Ten Who Changed the World is seminary president Daniel Akin's powerful tribute to the transformational work done by some truly inspiring Christian missionaries. With each profile, he journeys into the heart of that gospel servant's ...
Narrator: P. J. Ochlan
Published: 04/30/2016

{"id":"1088724","ean":"9781596446151","abr":"Unabridged","title":"Let the Nations Be Glad","subtitle":"","author":"John Piper","rating_average":"5","narrator":"Raymond Todd","ubr_id":"1088724","abr_id":"0","ubr_price":"16.98","abr_price":"0.00","ubr_memprice":"10.19","abr_memprice":"0.00","ubr_narrator":"Raymond Todd","abr_narrator":"","ubr_length":"Unabridged: 8 hr 30 min","abr_length":"Abridged: "}