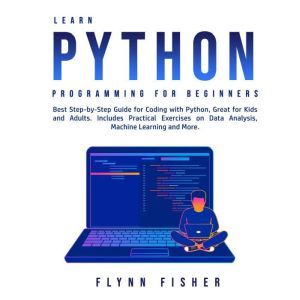 List: $15.99

| Sale: $11.20
Learn Python Programming for Beginners: Best Step-by-Step Guide for Coding with Python, Great for Kids and Adults. Includes Practical Exercises on Data Analysis, Machine Learning and More.
Format: Digital Audiobook Download
---
Synopsis
The Complete Python Masterclass Made Easy, Even if You've Never Coded in Your Life!If you go on Google right at this second and open any statistics with the most in-demand programming languages for the past 5 years until today you will consistently see in the top 3 a language called 'Python'. More often than not, it is the number one programming language to learn year after year.But why would so many people look for Python experts?Two big reasons:• It's an extremely powerful high-level programming language• The coding syntax is very simplified, making it fail-proof to learn and executeCombining those two things makes Python constantly being improved and updated. While learning the basics is something that will get you started, you will have the ability to grow your skills above and beyond because there's always new updates and improvements being made.In 'Learn Python Programming for Beginners', Flynn Fisher starts from scratch. He will teach you the fundamentals of coding with Python and help you lay down the building blocks of your future programming abilities. This audiobook is made in a way that every chapter is building upon each other.By the end, you will learn:• The Fundamentals of Python Programming laid down in a matter of days with a no non-sense approach of learning• Creating Operations by Combining the Fundamentals together and building upon each other step-by-step• Machine Learning with Python explained in plain English that will get you to skyrocket your education and your programming skills• Apply Your Knowledge with the practical exercises inside the audiobook, which cover everything from the basics to data analysis and machine learningProgramming can be hard if you don't have a precise step-by-step guide. Luckily, inside this audiobook, you will find all the building blocks needed to start your Python programming journey.See you inside as you start your Python coding journey!