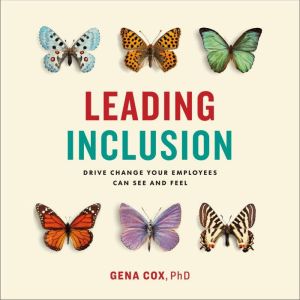 List: $26.99

| Sale: $18.89
Club: $13.49
Leading Inclusion
Drive Change Your Employees Can See and Feel
Format: Digital Audiobook Download
---
Synopsis
In this groundbreaking new book, organizational psychologist and executive coach Gena Cox shows how to lead an inclusive organization from the top down. Cox supports leaders in meeting new expectations for inclusive leadership by offering solutions drawn from psychological science, leaders' experiences in building inclusive organization cultures, and diversity, equity, and inclusion (DE&I) practitioners' insights. She seasons those messages with eye-opening truths from her own 20-plus-year experience as a leader in corporate America. Cox proposes that leaders make inclusion (especially race- and ethnicity-based inclusion) central to overall leader effectiveness expectations. She helps you understand the key questions you should ask, the constituents you must address, and the difficult but necessary actions you must take to build an inclusive organization.

In this book, you will learn:
- the historical facts that created, reinforce and maintain, many of the awkward interpersonal patterns that exist in work-life today between managers and those they lead;
- how, as a top leader, to balance your personal beliefs regarding DE&I issues with your obligations as a leader of the overall organization;
- what you must do to gain an accurate picture of the current experience of all your employees; and
- science- and experience-based insights to define meaningful actions for addressing inclusion issues in your unique organization.

Your organization can become a haven for inclusion, even if it is not so today. Leading Inclusion will empower you with the historical, psychological, and practical knowledge to change your organization—and America—one employee at a time.