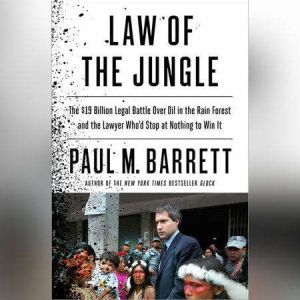 List: $20.00

| Sale: $14.40
Law of the Jungle


The $19 Billion Legal Battle Over Oil in the Rain Forest and the Lawyer Who'd Stop at Nothing to Win

Format: Digital Audiobook Download
---
Synopsis
The gripping story of one American lawyer's obsessive crusade—waged at any cost—against Big Oil on behalf of the poor farmers and indigenous tribes of the Amazon rainforest.

Steven Donziger, a self-styled social activist and Harvard educated lawyer, signed on to a budding class action lawsuit against multinational Texaco (which later merged with Chevron to become the third-largest corporation in America). The suit sought reparations for the Ecuadorian peasants and tribes people whose lives were affected by decades of oil production near their villages and fields.  During twenty years of legal hostilities in federal courts in Manhattan and remote provincial tribunals in the Ecuadorian jungle, Donziger and Chevron's lawyers followed fierce no-holds-barred rules. Donziger, a larger-than-life, loud-mouthed showman, proved himself a master orchestrator of the media, Hollywood, and public opinion. He cajoled and coerced Ecuadorian judges on the theory that his noble ends justified any means of persuasion. And in the end, he won an unlikely victory, a $19 billion judgment against Chevon--the biggest environmental damages award in history.  But the company refused to surrender or compromise. Instead, Chevron targeted Donziger personally, and its counter-attack revealed damning evidence of his politicking and manipulation of evidence. Suddenly the verdict, and decades of Donziger's single-minded pursuit of the case, began to unravel.   
 
Written with the texture and flair of the best narrative nonfiction, Law of the Jungle is an unputdownable story in which there are countless victims, a vast region of ruined rivers and polluted rainforest, but very few heroes.