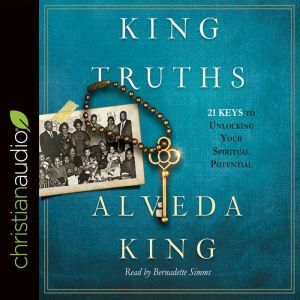 List: $14.98

| Sale: $10.49
King Truths


21 Keys to Unlocking Your Spiritual Potential

Format: Digital Audiobook Download
---
Synopsis
Unlock Your Spiritual Potential

There is power inside of you, power to discover, heal, and accomplish so much more in your life.

Alveda King, niece of the civil rights leader Martin Luther King Jr., shares twenty-one keys to help you unlock your spiritual potential. As your tour guide on this journey of discovery, she reveals how her famous family taught her that when you use your God-given gifts, you can impact the world.

Sharing secrets to unlocking a divine family, divine salvation, divine forgiveness, and much more, King inspires you to unlock authority to use your spiritual gifts to their greatest potential. Learn how to live "in spirit and in truth" to discover what "to you it has been given" means for your life.

King teaches how your worship can be expressed in your music, creative writing, scientific genius, medical breakthrough, business savvy, or countless other deeds and strengths. Bolstered with scriptures and personal experiences, King Truths is for those with a stirring in their souls to not only discover their purpose in life but also use their gifts for the glory of God.