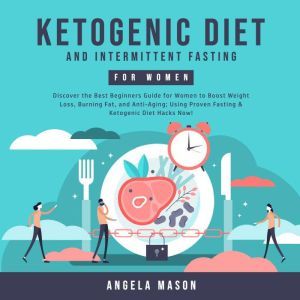 List: $22.97

| Sale: $16.07
Ketogenic Diet and Intermittent Fasting for Women: Discover the Best Beginners Guide for Women to Boost Weight Loss, Burning Fat, and Anti-Aging; Using Proven Fasting & Ketogenic Diet Hacks Now!
Format: Digital Audiobook Download
---
Synopsis
Ultimate Ketogenic Diet and Intermittent Fasting Guide for Women! Look Younger, Healthier, And More Energetic. Do you want to burn the unwanted fat quickly? Do you want to have more energy to tackle everyday tasks? Do you want to look stunning while doing that? If so, the keto diet and intermittent fasting is your answer.The keto diet is a very low-carb, high-fat diet. While you eat fewer carbs and increase the intake of fat, your body is put into a state of ketosis. This audiobook will teach you what happens during the state of ketosis and how your body can benefit from it.Keto diet and intermittent fasting is an excellent choice for women who want to lose their weight quickly while maintaining a healthy lifestyle. All you need is proper guidance, and this incredible audiobook is perfect for that.Here's what you will find in this amazing audiobook:• How's and whys: Find out the principles of how keto diet works, and why it is so different for women.• Diet for all ages: Enjoy specially crafted and adapted diet plans for women of different age groups.• Do's and don'ts: Learn which foods are your best friends, and which ones are your worst enemies. • Word from experts: Discover the experts' advice and tips for maintaining the diet. Learn from experts, what the most common mistakes are, and how to fix them.• What's IF and what benefits it has for women• Myths and mistakes to avoid during IF• IF for women, with diet tips for pregnancy • Tips and tricks for a successful and sustainable IF• AND SO MUCH MORE!Are you ready to look younger, and bursting with energy? Are you ready to have a healthy and happy life? Are you ready to lose the unwanted weight quickly? If yes, then this audiobook is perfect for you!Scroll up, click on "Buy Now", and Start Listening!