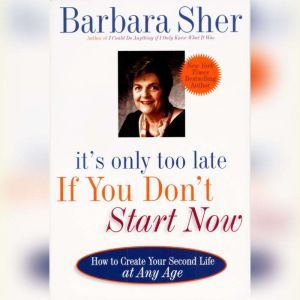 List: $11.95

| Sale: $8.61
It's Only Too Late If You Don't Start Now
Format: Digital Audiobook Download
---
Synopsis
New York Times bestselling author Barbara Sher has transformed the lives of millions with her phenomenally successful books, workshops, and television appearances.  Now, in a work that explores and demystifies one of life's most challenging and bewildering passages, she shatters the myth that turns midlife into a crisis and offers a bold new strategy for creating a new life after forty.

Barbara Sher shows you how to rediscover the inspired, enthusiastic adventurer you wanted to be before you became the responsible adult you had to be.  According to Sher, it's never too late to start over.  In fact, midlife is the perfect time to do so, a time when dreams for the future and experiences of the past finally come together.  "The second life," as Sher calls it, can be even better than the first.  More important, it would have been impossible to make these crucial realizations until now.  Discover:

How to make life's built-in "time limit" work for you
Which of your "regrets" can point the way to a more rewarding life
How to identify--and overcome--the illusions that stop you from living your dreams
Dozens of ways to recapture your freedom...  without succumbing to "road fever," trophy-mate collecting, or other midlife maladies.

Combining step-by-step strategies with provocative exercises and motivational techniques, this extraordinary book reminds you of the dreams you abandoned along the path to adulthood, providing all the tools you will need to weave those aspirations into a richly textured, meaningful life.  Beginning with the empowering notion that everyone has a future, Barbara Sher shows you how to turn each of midlife's challenges into a catalyst for dynamic change.  Indeed, no matter what your age, it's only too late--to reclaim your creativity, recapture your long-lost dreams, and embark on an exciting new life--if you don't start right now!


From the Hardcover edition.