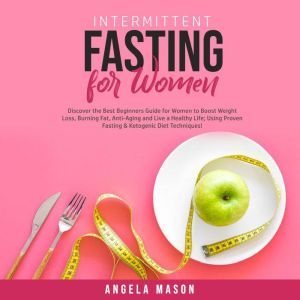 List: $15.97

| Sale: $11.18
Intermittent Fasting for Women: Discover the Best Beginners Guide for Women to Boost Weight Loss, Burning Fat, Anti-Aging and Live a Healthy Life; Using Proven Fasting & Ketogenic Diet Techniques!
Format: Digital Audiobook Download
---
Synopsis
The Ultimate Beginner's Guide for Women Who Are Looking to Burn Fat, Stop Aging, and Live a Healthy Life Using Intermittent Fasting!Are you looking for an effective way to lose weight and STAY fit and healthy in the longterm?Intermittent fasting for women is a great way to enjoy food, burn weight, and feel super energized!If you've been trying out different diets to no particular success and are just tired of the same old rigmarole, you need to seriously consider intermittent fasting. After all, you don't want to starve yourself forever, while seeing barely any progress in the fat-burning department, right?Intermittent fasting uses the body's own metabolism to help you burn weight. Of course, it's a good idea to eat healthily, but don't worry, we'll explain everything!This audiobook will teach you:• What's IF and what benefits it has for women• Myths and mistakes to avoid during IF• IF for women, with diet tips for pregnancy • Tips and tricks for a successful and sustainable IF• AND SO MUCH MORE!If you've been worried about how IF could impact your body and hormones, worry no more! This audiobook is the ultimate guide to intermittent fasting for women!So Scroll up, Click on 'Buy Now', and Get Your Copy!