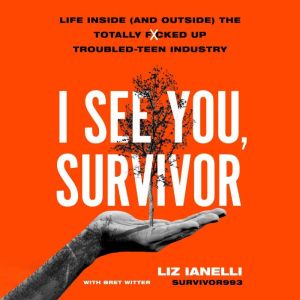 List: $27.99

| Sale: $19.59
I See You, Survivor


Life Inside (and Outside) the Totally F*cked-Up Troubled Teen Industry

Format: Digital Audiobook Download
---
Synopsis
A survivor of the Troubled Teen Industry exposes the truth about the dark side of a billion-dollar industry's institutionalized abuse—and shares the story of her own fight for justice. Liz Ianelli, known around the world as Survivor993, spent years at the Family Foundation—labeled an "institution for troubled teens." The children who went through The Family School like her were good people. They had potential and dreams, but they came out with lifelong trauma: anxious, angry, paranoid, self-hating and in pain. Most of them have suffered lives of hardship, unable to integrate back into society. Hundreds have died, mostly by overdose and suicide.

I See You, Survivor is about what really happened at The Family and what continues to happen at thousands of facilities like it. Beyond the trauma, this book is about triumph, resilience, and an effort to help others, and it conveys Liz's critical message for every survivor she sees:

"You are not broken. You are not unlovable. And you are not alone. There are millions of us. And I come with a message, for you, for them, for everyone: They act strong, but we are stronger. We are worthy. We are not alone. Speak, and we will be there for you. Speak, because there is power in your testimony. Speak, and we will win."

This is a book first and foremost for survivors who can find support and community in these stories. It is also for parents, counselors, law makers and others to expose this industry for what it is: child abuse. And how that abuse has consequences for all of us.