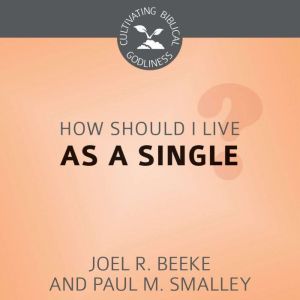 List: $14.95

| Sale: $10.47
How Should I Live as a Single?
Format: Digital Audiobook Download
---
Synopsis
How has God provided for single Christians? Statistics show that life as a single person has become a common experience. For many in the church, singleness is the new normal. Between loneliness, sexual temptation, and self-pity, Christians often forget that God does not view them as second-class. In this short booklet, Joel Beeke and Paul Smalley remind single Christians that they can experience rich and satisfying lives when they understand that Christ, not marriage, completes them. Pastoral and practical, their biblical wisdom shows singles in the church how they can see their singleness as God's gift for them as a means to glorify and enjoy Him forever. Singles and married couples alike can learn from this resource as they strive together to grow in godliness. "As an older, lifelong, single Christian, I recommend this booklet to my fellow Christian singles as a helpful summary of biblical principles, advice, and promises." ―Curt Daniel, pastor of Faith Bible Church, Springfield, Illinois, and author of The History and Theology of Calvinism This booklet is a part of the "Cultivating Biblical Godliness" series, which answers questions Christians have about everyday faithfulness in life and practice.