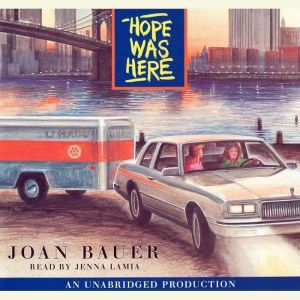 List: $12.95

| Sale: $9.32
Club: $6.47
Hope Was Here
Format: Digital Audiobook Download
---
Synopsis
A Newbery Honor Book

Food is in 16-year-old Hope's blood. With her Aunt Addie, diner cook extraordinaire, she travels the States and hones her waitressing skills, impressing hungry people everywhere. But following the tides of comfort food dining means Hope never gets to stay in one place very long, and that's tough. 

The latest move threatens to be the hardest yet, leaving the excitement of New York City to run a diner in rural Wisconsin. Hope doesn't expect to feel at home there, just as she doesn't expect to get caught up in town politics. But her occupation has taught her to read people, and instinct tells her to trust G.T. Stoop, the straight-shooting owner of the Welcome Stairways Diner, whose leukemia makes his entry into a heated mayoral race a surprise to everyone. 

What follows—as Hope meets politics, corruption, and her past head-on—is at the heart of this memorable, laugh-out-loud story about honor, trust, and serving up your very best.