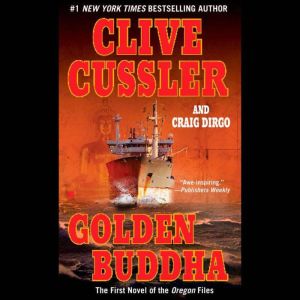 List: $22.50

| Sale: $16.20
Golden Buddha
Format: Digital Audiobook Download
---
Synopsis
In the first novel in the #1 New York Times bestselling Oregon Files series, Chairman Juan Cabrillo and his crew are hired by the US government to free Tibet from Chinese control...

The Corporation, a group of highly intelligent and skilled mercenaries, under the leadership of Juan Cabrillo, board a brand new ship. It's a state-of-the-art seagoing marvel with unthinkable technology at its disposal. And it's designed to look like a rusty old lumber hauler. But if Cabrillo and his team plan to make this spy ship their new headquarters, their first mission had better be a success.

With the secret backing of the US government, Cabrillo sets out to put Tibet back in the hands of the Dalai Lama by striking a deal with the Russians and the Chinese. His main negotiating chip is knowledge of a golden Buddha containing records of vast oil reserves in the disputed land. But first, he'll have to locate—and steal—the all-important artifact. And there are certain people who would do anything in their power to see him fail...