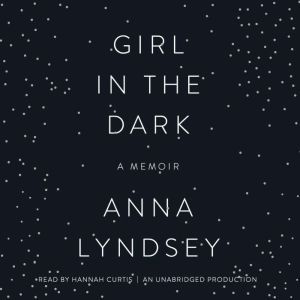 List: $15.00

| Sale: $10.80
Girl in the Dark


A Memoir

Format: Digital Audiobook Download
---
Synopsis
Haunting, lyrical, unforgettable, Girl in the Dark is a brave new memoir of a life without light.

     Anna Lyndsey was young and ambitious and worked hard; she had just bought an apartment; she was falling in love. Then what started as a mild intolerance to certain kinds of artificial light developed into a severe sensitivity to all light. 
     Now, at the worst times, Anna is forced to spend months on end in a blacked-out room, where she loses herself in audiobooks and elaborate word games in an attempt to ward off despair. During periods of relative remission, she can venture out cautiously at dawn and dusk into a world that, from the perspective of her cloistered existence, is filled with remarkable beauty. And through it all there is Pete, her love and her rock, without whom her loneliness seems boundless.
     One day Anna had an ordinary life, and then the unthinkable happened. But even impossible lives, she learns, endure. Girl in the Dark is a tale of an unimaginable fate that becomes a transcendent love story. It brings us to an extraordinary place from which we emerge to see the light and the world anew.