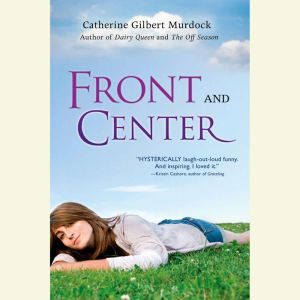 List: $15.00

| Sale: $10.80
Club: $7.50
Front and Center
Format: Digital Audiobook Download
---
Synopsis
After five months of sheer absolute craziness I was going back to being plain old background D.J. In photographs of course I'm always in the background—it's a family joke, actually, that us Schwenk kids could go to school naked on picture day, we're all so crazy tall. But I mean I was returning to the background of life. Where no one would really notice me or talk about me or even talk to me much except to say things like "Nice shot," and I could just hang out without too many worries at all.

But it turns out other folks have big plans for D.J. Like her coach. College scouts. All the town hoops fans. A certain Red Bend High School junior who's keen for romance and karaoke. Not to mention Brian Nelson, who she should not be thinking about! Who she is done with, thank you very much. But who keeps showing up anyway . . .

What's going to happen if she lets these people down? What's going to happen when she does? Because let's face it: there's no way, on the court or off, that awkward, tongue-tied D.J. Schwenk can manage all this attention. No way at all. Not without a brain transplant. Not without breaking her heart.