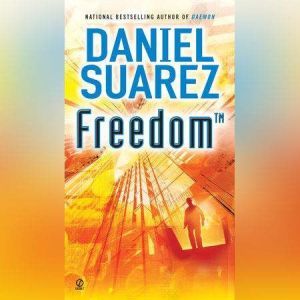 List: $22.50

| Sale: $16.20
Freedom (TM)
Format: Digital Audiobook Download
---
Synopsis
The propulsive, shockingly plausible sequel to New York Times bestseller Daemon.

In one of the most buzzed-about debuts, Daniel Suarez introduced a terrifying vision of a new world order, controlled by the Daemon, an insidious computer program unleashed by a hi-tech wunderkind, Daemon captured the attention of the tech community, became a New York Times and Indie bestseller, and left readers hungry for more.

Well, more is here, and it's even more gripping than its predecessor. In the opening chapters of Freedom(tm), the Daemon is firmly in control, using an expanded network of real-world, dispossessed darknet operatives to tear apart civilization and rebuild it anew. Soon civil war breaks out in the American Midwest, in a brutal wave of violence that becomes known as the Corn Rebellion. Former detective Pete Sebeck, now the Daemon's most powerful--though reluctant--operative, must lead a small band of enlightened humans toward a populist movement designed to protect the new world order. But the private armies of global business are preparing to crush the Daemon once and for all.

In a world of conflicted loyalties, rapidly diminishing human power, and the possibility that anyone can be a spy, what's at stake is nothing less than human freedom's last hope to survive the technology revolution.