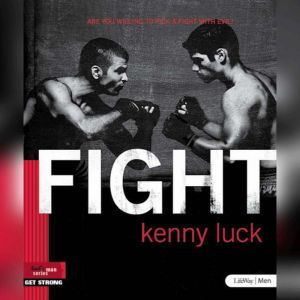 List: $14.98

| Sale: $10.49
Club: $7.49
Fight


Are You Willing to Pick a Fight with Evil?

Format: Digital Audiobook Download
---
Synopsis
Suit up for the ultimate fight

There's a terrifying truth facing today's men, and it's caught many off guard. But once that first overwhelming challenge hits, the reality about evil becomes clear:

Every one of us is in a fight for our lives.

The enemy is real–and so is the danger. But powerful forces convince us to ignore the spiritual war surrounding us. And that willing surrender ensures the total destruction of all we hold dear.

But a new generation of God's men is beginning to engage with the tools and training to take the fight to the enemy and respond with boldness and duty. This book is the manual for recognizing the deceptions about doing true spiritual battle, realizing the roles men play at the front lines, and rescuing the captives from the enemy's stronghold.

"It's been said that all evil needs to succeed is for good men to do nothing. Kenny excels at showing the bigger story we're engaged in. Fight is a must read for men to defeat the enemy where each of us live–in our marriages, our families, and all our spheres of influence."
--Jim Weidmann, "The Family Night Guy," senior vp of Promise Keepers, and author of the Family Night Tool Chest series.

The call has been issued, but the decision is yours. Will you suit up, get in the battle, and fight?