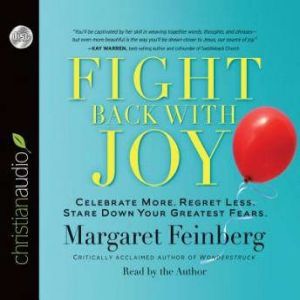 List: $12.98

| Sale: $9.09
Club: $6.49
Fight Back With Joy


Celebrate More. Regret Less. Stare Down Your Greatest Fears

Format: Digital Audiobook Download
---
Synopsis
         When we fight back with joy, we awaken to the deepest reality
              of our identity as beloved, delightful children of God. 
                            Margaret Feinberg                   Great Joy Waits in Life's Greatest BattlesJoy is stamped on coffee mugs, sewn onto decorative pillows, even displayed on dish soap. But what if there s a deeper power and purpose to this mighty virtue?Through vulnerable storytelling, a difficult diagnosis, and a good dose of humor, Margaret Feinberg reveals how joy is more than whimsy. It s the weapon you can use to fight life's battles. Fight Back with Joy will help you:Expand your joy threshold by awakening to God s fierce love for youEscape fear and regret by applying biblical strategies to whatever crisis you re facingOvercome depression as you reignite your imagination for laughter and celebrationDiscover freedom from the past by learning how to turn mourning into joyRise above endless demands and become more winsome, cheerful, and thankfulNo matter what your circumstances, you can practice defiant joy. When you do, you will embrace a life that s richer and fuller than you ve ever known before—a life radiant with joy.