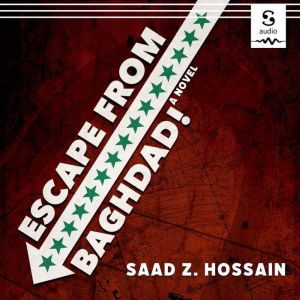 List: $22.00

| Sale: $15.40
Escape from Baghdad!
Format: Digital Audiobook Download
---
Synopsis
Welcome to Baghdad during the US invasion. A desperate American military has created a power vacuum that needs to be filled. Religious fanatics, mercenaries, occultists, and soldiers are all vying for power. So how do regular folks try to get by?If you're Dagr and Kinza, a former economics professor and a streetwise hoodlum, you turn to dealing in the black market. But everything is about to change, because they have inherited a very important prisoner: the star torturer of Hussein's recently collapsed regime, Captain Hamid, who promises them untold riches if they smuggle him out of Baghdad.With the heat on and nothing left for them in Baghdad, they enlist the help of Private Hoffman, their partner in crime and a U.S. Marine. In the chaos of a city without rule, getting out of Baghdad is no easy task and when they become embroiled in a mystery surrounding an ancient watch that doesn't tell time, nothing will ever be the same. With a satiric eye firmly cast on the absurdity of human violence, Escape from Baghdad! features shades of Catch-22 and Three Kings while giving voice, ribald humor, and firepower to to people often referred to as "collateral damage."