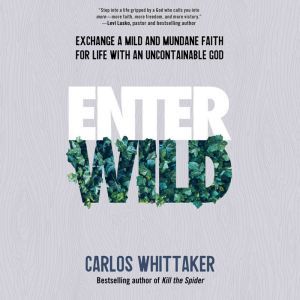 List: $15.00

| Sale: $10.80
Club: $7.50
Enter Wild
Exchange a Mild and Mundane Faith for Life with an Uncontainable God
Format: Digital Audiobook Download
Includes: Bonus Material

---
Synopsis
"Step into a life gripped by a God who calls you into more—more faith, more freedom, and more victory."—Levi Lusko, pastor and bestselling author

You are meant to receive the abundance God promises here and now. You are not meant to wait until heaven to experience His best. Even in the midst of our broken world's traumas and trials, you can 

• learn to lower the volume of life and truly hear God
• experience what it means to speak God's Word over yourself for real victory
• discover how to pray His promises instead of praying over the problems
 
With his trademark blend of humor and transparency, gifted storyteller Carlos Whittaker shares his personal struggle in coping with crippling anxiety—and how the key to his freedom was rediscovering a wild faith. That key can be yours, helping you open the door to leave mild and enter wild.

This audiobook includes a PDF of My Daily Prayer.