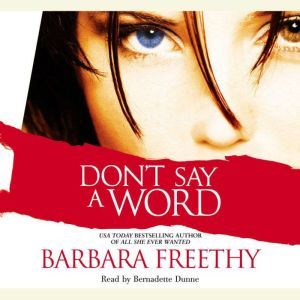 List: $20.00

| Sale: $14.40
Don't Say a Word
Bestseller
Format: Digital Audiobook Download
---
Synopsis
Everything she's been told about her past life is a lie...

Julia DeMarco is planning a perfect San Francisco wedding when she comes face-to-face with a famous photograph, the startling image of a little girl behind the iron gate of a foreign orphanage–a girl who looks exactly like her. But Julia isn't an orphan. She wasn't adopted. And she's never been out of the country. She knows who she is–or does she?

Haunted by uncertainty, Julia sets off on a dangerous search for her true identity–her only clues a swan necklace and an old Russian doll, her only ally daring, sexy photographer Alex Manning. Suddenly, nothing is as it seems. The people Julia loved and trusted become suspicious strangers. The relationships she believed in–with her mother, her sister, and her fiancé–are shaken by new revelations. The only person she can trust is Alex, but he has secrets of his own. Each step brings her closer to a mysterious past that began a world away–a past that still has the power to threaten her life...and change her future forever.