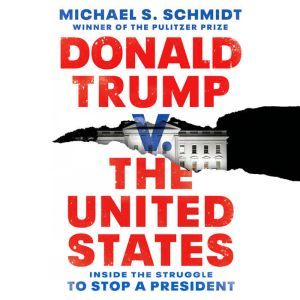 List: $25.00

| Sale: $18.00
Donald Trump v. The United States


Inside the Struggle to Stop a President

Bestseller

Format: Digital Audiobook Download
---
Synopsis
With unprecedented access to the senior officials who tried—and often failed—to contain Donald Trump, a Pulitzer Prize-winning New York Times journalist continues to break news about the most important political story of our lives.
 
In the early days of the Trump presidency, the people who work in the institutions that make America America rallied to defend the rule of law and take on an unbound president. It was the immune response of our constitutional democracy. Donald Trump v. the United States tells the dramatic, high-stakes story of those who felt compelled to confront and try to contain the most powerful man in the world as he shredded norms and sought to expand his power. In this book, Michael S. Schmidt records the shocking reality of a presidency like no other, in a time like no other.
 
Schmidt has broken many of the major stories of the Trump era, from the news of Hillary Clinton's home email server to the report on former FBI director James Comey's contemporaneous memos of conversations with Trump that led directly to the appointment of special prosecutor Robert Mueller. Now he takes us inside the defining events of this presidency, chronicles them up close, and records the clash between an increasingly emboldened president and those around him who at every turn are unsure whether he is acting in the interest of the country, of his ego, of his family's business, or of Russia. As they found themselves in the extraordinary position of working to thwart the president that they had pledged to serve, each faced the same questions: How do we stop the damage? Can it be stopped? Through their eyes and ears, we observe an epic struggle.
 
Drawing on an unparalleled depth of reporting, secret White House documents, and confidential sources inside federal law enforcement and the West Wing, Donald Trump v. the United States is not only a vital and riveting contemporary history. It is also a stark warning, of just how fragile and vulnerable the institutions of American democracy really are.