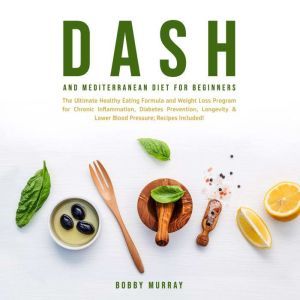 List: $22.97

| Sale: $16.07
Dash and Mediterranean Diet for Beginners: The Ultimate Healthy Eating Formula and Weight Loss Program for Chronic Inflammation, Diabetes Prevention, Longevity & Lower Blood Pressure; Recipes Included!
Format: Digital Audiobook Download
---
Synopsis
Lose Weight and Burn Fat with Two of the Healthiest Diets in the World!When it comes to dieting, scientists and nutritionists usually disagree heavily on the best way to lose weight. However, two diets is the crowd's favorite and is universally recommended by the scientific and fitness community – the DASH & Mediterranean diet. The secret of these diets lies not only in what you eat but how you approach food psychologically and emotionally. Establishing a healthy relationship with food is the key to weight loss, and that's exactly what this audiobook will help you with! Just think about the French, Italians, and Spanish. Their cuisines are filled with pasta, bread, healthy oils, cheeses… Yet, they are among the healthiest nations in the world! With this amazing guide, you'll learn how to NOT give up your favorite food, but replace it with equally delicious but healthier versions. Soon, you'll be shedding pounds and feeling better than ever! Here's what you get with this audiobook: • A detailed explanation of why this diet works, and how to transfer to this type of cuisine• A guide on how to lose weight FAST with the Mediterranean diet• A comprehensive guide on what to eat, and what to avoid while following this lifestyle• How to use Mediterranean food to heal inflammation and other health issues• Discover the hard science behind the DASH diet and say goodbye to myths and misconceptions• Adapt the DASH diet to your budget and your unique taste preferences• Transition to the DASH diet quickly and easily by following detailed meal plans and comprehensive nutrition strategies• Boost your well-being by making the DASH diet an effortless part of your lifestyle• And more! If you want to transform yourself into a healthier and happier individual, Scroll up, click on "Buy Now", and Start Listening!