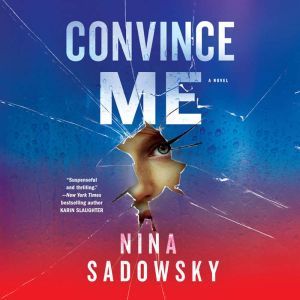 List: $17.50

| Sale: $12.60
Club: $8.75
Convince Me
A Novel
Format: Digital Audiobook Download
---
Synopsis
A charismatic man's death leaves his family asking questions and exposing secrets, revealing the the man they loved as an unrepentant pathological liar in this explosive thriller from film producer and author Nina Sadowsky.

Justin Childs is handsome, likeable, smart. A devoted son to his mother, Carol; a loving husband to his wife, Annie; and a surefooted, savvy business partner to his best friend from college, Will. To so many, the perfect man.

He's also a liar. And now he's dead.

When Justin's body is retrieved from the wreckage of a car accident, his death leaves his loved ones with more questions than answers. In the weeks before, he had been acting strangely--Annie suspected Justin was having an affair, Will assumed it was the pressure of their company's launch--but it was nothing his promises and assurances couldn't fix. But with Justin gone, the cracks begin to show: a secret apartment, disturbing discrepancies in the company's financials. And the woman Annie thought he was sleeping with? She's been missing for a week.

As the lies and secrets pile up, Annie, Carol, and Will realize their beloved Justin was not the man they thought he was. When the police come knocking on Will's door to ask about the missing woman, it looks like Justin may be trying to lay his dark secrets at Will's feet. One final lie from beyond the grave.

Convince Me is a chilling look at what makes a sociopath in an age of untruth--and a high-octane, surprising read to its very last page.