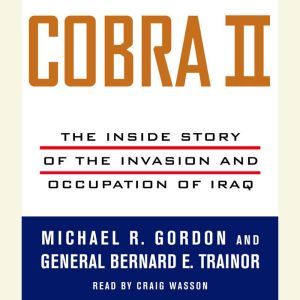 List: $17.48

| Sale: $12.59
Cobra II


The Inside Story of the Invasion and Occupation of Iraq

Format: Digital Audiobook Download
---
Synopsis
Informed by unparalleled access to still–secret documents, interviews with top field commanders, and a review of the military's own internal after–action reports, Cobra II is the definitive chronicle of America's invasion and occupation of Iraq—a conflict that could not be lost but one that the United States failed to win decisively. From the Pentagon to the White House to the American command centers in the field, the book reveals the inside story of how the war was actually planned and fought. Drawing on classified United States government intelligence, it also provides a unique account of how Saddam Hussein and his high command developed and prosecuted their war strategy.

Unimpeachably sourced, Cobra II describes how the American rush to Baghdad provided the opportunity for the virulent insurgency that followed. The brutal aftermath in Iraq was not inevitable and was a surprise to the generals on both sides; Cobra II provides the first authoritative account as to why. It is a book of enduring importance and incisive analysis—a comprehensive account of the most reported yet least understood war in American history.


From the Compact Disc edition.