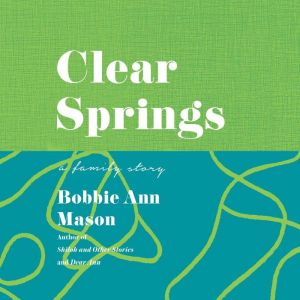 List: $31.99

| Sale: $22.40
Clear Springs


A Family Story

Format: Digital Audiobook Download
---
Synopsis
PULITZER PRIZE FINALIST
From acclaimed author Bobbie Ann Mason, her Pulitzer Prize-nominated memoir chronicling three generations of her Kentucky lineage, spanning a century in the life of an American family.

"Mason gets to the heart of a whole generation.... She can write the hard truth about home, love, loss.... Immensely satisfying." —New York Times Book ReviewPeople love and remember the novels of Bobbie Ann Mason because they ring so true. This dazzling memoir has the same power. In it, Mason tells the story of her own family—a multilayered saga of three generations, their aspirations, their conflicts, and the ties that bound them to one another.Spanning decades, Clear Springs gracefully weaves together the stories of Mason's grandparents, parents, and her own generation. The narrative moves from the sober industriousness of a Kentucky farm to the hippie lifestyle of the countercultural 1960s; from a New York fan magazine to the shock-therapy ward of a mental institution; from a county poorhouse to the set of a Hollywood movie.In the process of recounting her own odyssey—the story of an isolated girl who dreamed of distant places—Mason depicts the changes that have come to family, to women, and to heartland America in the twentieth century. Ultimately, Clear Springs is a heartfelt portrait of an extended family, and a profound affirmation of the importance of family love.