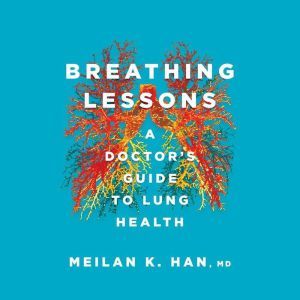 List: $15.00

| Sale: $10.80
Breathing Lessons


A Doctor's Guide to Lung Health

Format: Digital Audiobook Download
---
Synopsis
An authoritative, accessible guide to how our lungs work and how to protect them.

Most of us pay little attention to the workings of our lungs, but the COVID-19 pandemic has sparked interest in their functioning and fear about the risks they face. Dr. MeiLan K. Han, a leading pulmonologist and a national spokesperson for the American Lung Association, takes listeners on a fascinating tour of this most vital organ.

Han explains the wonder of breathing and reveals how the lungs serve as the body's first line of defense. She provides a timely overview of the latest scientific thinking about the leading respiratory risks—including indoor and outdoor pollution, smoking and vaping, wildfire smoke, and viruses like SARS-CoV-2—and offers a practical guide to keeping lungs healthy. And with authority as both practitioner and medical researcher, she argues powerfully for a social policy that makes a priority of preserving lung health nationwide.