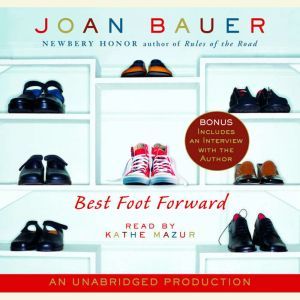 List: $19.00

| Sale: $13.68
Club: $9.50
Best Foot Forward
Format: Digital Audiobook Download
---
Synopsis
I'm a real ace at arguing with myself. Take a subject like Tanner Cobb.
On the one hand, he stole.
On the other, he helped his little brother read and count.
Then again, he stole shoes in front of his little brother.
But, he brought the shoes back and offered to make up for what he'd done.
My mind said, Don't trust him.
My instincts said, He might not be all bad.
Inconsistencies are a royal pain; the older you get, the more they multiply.

After a life-altering summer on the road, Jenna Boller is dripping with newfound maturity. She has a job she loves at Gladstone Shoes, a best friend who makes her laugh, and a dysfunctional family she's learning how to handle. Jenna feels ready for anything–until Tanner Cobb, a guy with a past, a police record, and dangerously good looks, walks into her life. And that's just the beginning.
Jenna likes to be in control, but that's not easy when she's suddenly surrounded by crises, including a shoe empire on the verge of crumbling. Tanner's street smarts seem to be what Jenna needs, but can she trust him when the going gets tough?
Newbery Honor author Joan Bauer has written a sure-footed, funny, and poignant novel about a teenage girl facing the challenges–and betrayals–of the adult business world head-on, a struggle that links her to the resilience of her past and helps her to eagerly plan the course for her future.

Praise for Joan Bauer:
Rules of the Road
"Jubilant, strong, and funny, this is a road trip to remember."
–The Bulletin of the Center for Children's Books, starred review

Hope Was Here
"When it comes to creating strong, independent and funny teenage characters, Bauer is in a class by herself."
–School Library Journal, starred review


From the Compact Disc edition.