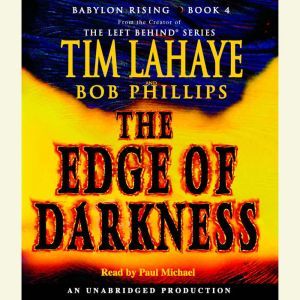 List: $14.00

| Sale: $10.08
Babylon Rising: The Edge of Darkness
Format: Digital Audiobook Download
---
Synopsis
Tim LaHaye's most exciting series ever, Babylon Rising, continues with this explosive new installment, including more revelations than ever before. In The Edge of Darkness, LaHaye reveals the meaning behind some of the most carefully guarded Biblical prophecies to expose a conspiracy with terrifying consequences for our modern world.

This time Michael Murphy sets off in search of the Lost Temple of Dagon and the dark secrets of the strange god once worshipped by the ancient Philistines. His quest will lead to a final confrontation with an old enemy and uncover one of the Bible's most feared warnings–a prophecy of false miracles, false messiahs, and ultimate evil that will be fulfilled in our time...and that not even Murphy can stop once it's begun.

Once again Tim LaHaye combines his unmatched insight into Biblical prophecy with his unique skills as a master storyteller to deliver a suspense thriller of nonstop action with a thought-provoking message for our troubled times.