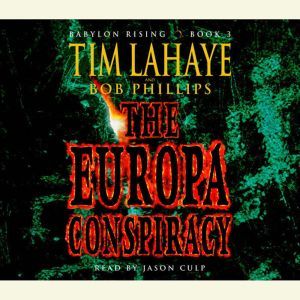 List: $12.50

| Sale: $9.00
Babylon Rising Book 3: The Europa Conspiracy
Format: Digital Audiobook Download
---
Synopsis
Tim LaHaye has called Babylon Rising his most exciting series ever, and The Europa Conspiracy is the most thrilling and suspenseful installment yet. Reaching back to some of the most dramatic and prophetically significant stories of the Bible, and forward to the creation of ultimate evil in the modern world, the awe-inspiring revelations never let up. It begins when Michael Murphy heads to the ancient city of Babylon in pursuit of one of the most famous and mystifying of Biblical prophecies: The Handwriting on the Wall. But the closer he gets to deciphering the true meaning of Daniel's ancient message for our troubled times, the closer Murphy comes to a shattering confrontation with the forces of darkness that will cause the earth itself to tremble.

In The Europa Conspiracy, Tim LaHaye once again shows how his thrill-a-minute storytelling and deep understanding of the Bible have combined to make him one of today's most popular and influential fiction authors.


From the Hardcover edition.