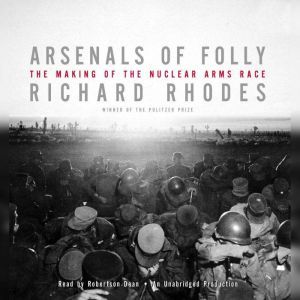 List: $25.00

| Sale: $18.00
Arsenals of Folly


The Making of the Nuclear Arms Race

Format: Digital Audiobook Download
---
Synopsis
From the Pulitzer Prize—winning author of The Making of the Atomic Bomb: the story of the entire postwar superpower arms race, climaxing during the Reagan-Gorbachev decade when the United States and the Soviet Union came within scant hours of nuclear war–and then nearly agreed to abolish nuclear weapons.

In a narrative that moves like a thriller, Rhodes sheds light on the Reagan administration's unprecedented arms buildup in the early 1980s, as well as the arms-reduction campaign that followed, and Reagan's famous 1986 summit meeting with Gorbachev. Rhodes's detailed exploration of events of this time constitutes a prehistory of the neoconservatives, demonstrating that the manipulation of government and public opinion with fake intelligence and threat inflation that the administration of George W. Bush has used to justify the current "war on terror" and the disastrous invasion of Iraq were developed and applied in the Reagan era and even before.

Drawing on personal interviews with both Soviet and U.S. participants, and on a wealth of new documentation, memoir literature, and oral history that has become available only in the past ten years, Rhodes recounts what actually happened in the final years of the Cold War that led to its dramatic end. The story is new, compelling, and continually surprising–a revelatory re-creation of a hugely important era of our recent history.





From the Compact Disc edition.