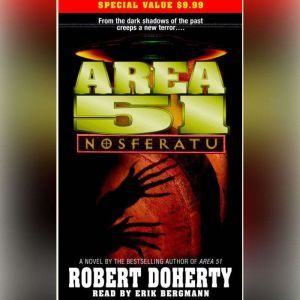 List: $6.95

| Sale: $5.01
Area 51: Nosferatu
Format: Digital Audiobook Download
---
Synopsis
THE SHADOWS OF HISTORY ARE THEIR HOME.
THE BLOOD OF HUMANS IS THEIR SUSTENANCE.
NOW THE FUTURE BELONGS TO THEM....

It began at the dawn of history, when a darkness rose from deep within an Egyptian tomb. For thousands of years—long before earth was plunged into an intergalactic battle for its survival—four deathless creatures sowed seeds of destruction and chaos. Surviving on the spilled blood of warriors and innocents from ancient Greece to the ashes of Nazi Germany, the creatures have played a role in conflicts great and small. Now, bound by their common ancestry, separated by their own devious ambitions, and armed with mankind's own modern tools of destruction, the deathless ones know that their time has come—and they have been called together by one brilliant leader. His name is Nosferatu. His vision is to become a god on earth. His ultimate weapon will be a Holy Grail, a force that no mortal man can defeat...but his deadliest enemy may be one of his own....


From the Paperback edition.