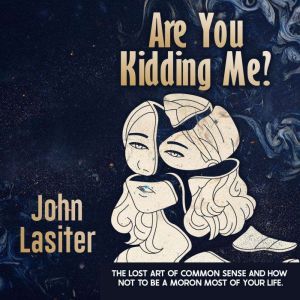 List: $7.00

| Sale: $4.90
Are You Kidding Me ?
Format: Digital Audiobook Download
---
Synopsis
"Are you kidding me?"Common sense is a flower that doesn't grow everywhere, but you can make efforts to let it be a part of your garden. As it is said that "common sense is not common in common people", you need to make it common; thinking ahead is one proof of common sense. Some say "common sense is related to exercise", while some call common sense "pragmatic knowledge".You cannot make progress without making decisions. The decisions you've made as of not long ago have brought you to where you are at this moment. Filled with in-depth insights and practical advice, the book Are You Kidding Me will change your decision-making sense. This book will help you to exercise your sense of impact. Decision-making is a vital part of one's life. Understanding the components that impact decision-making is critical to know what decisions to make. What you have today is the result of your decision 10 years ago.The book Are You Kidding Me tells you that instead of losing in an ocean of disarray and uneasiness and asking yourself what you're doing here and why every other person appears to have everything sorted out, you need to make decisions with active common sense.