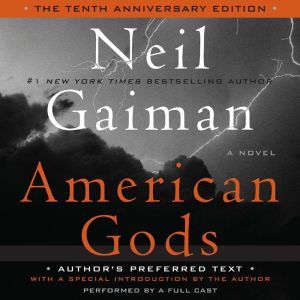 Details
American Gods: The Tenth Anniversary Edition: Full Cast Production
Author: Neil Gaiman
Narrator: George Guidall
Unabridged: 19 hr 46 min
Format: Digital Audiobook
Publisher: Harper Audio
Published: 06/21/2011
Synopsis
Now a STARZ® Original Series produced by FremantleMedia North America starring Ricky Whittle, Ian McShane, Emily Browning, and Pablo Schreiber.Locked behind bars for three years, Shadow did his time, quietly waiting for the day when he could return to Eagle Point, Indiana. A man no longer scared of what tomorrow might bring, all he wanted was to be with Laura, the wife he deeply loved, and start a new life.But just days before his release, Laura and Shadow's best friend are killed in an accident. With his life in pieces and nothing to keep him tethered, Shadow accepts a job from a beguiling stranger he meets on the way home, an enigmatic man who calls himself Mr. Wednesday. A trickster and a rogue, Wednesday seems to know more about Shadow than Shadow does himself.Life as Wednesday's bodyguard, driver, and errand boy is far more interesting and dangerous than Shadow ever imagined. Soon Shadow learns that the past never dies . . . and that beneath the placid surface of everyday life a storm is brewing—an epic war for the very soul of America—and that he is standing squarely in its path."Mystery, satire, sex, horror, poetic prose—American Gods uses all these to keep the reader turning the pages."—Washington Post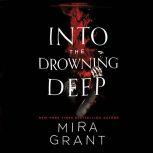 Into the Drowning Deep
by
Mira Grant
New York Times bestselling author Mira Grant, author of the renowned Newsflesh series, returns with a novel that takes us to a new world of ancient mysteries and mythological dangers come to life. The ocean is home to many myths, But some are dea...
Narrator: Christine Lakin
Published: 11/14/2017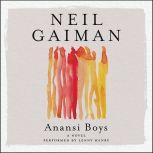 Anansi Boys
by
Neil Gaiman
In this #1 New York Times bestseller, Neil Gaiman returns to the territory of his masterpiece, American Gods (soon to be a Starz Original Series) to once again probe the dark recesses of the soul.God is dead. Meet the kids.Fat Charlie Nancy's...
Narrator: Lenny Henry
Published: 09/20/2005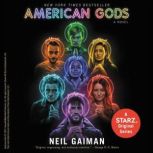 American Gods
by
Neil Gaiman
Now a STARZ® Original Series produced by FremantleMedia North America starring Ricky Whittle, Ian McShane, Emily Browning, and Pablo Schreiber.Locked behind bars for three years, Shadow did his time, quietly waiting for the day when he could r...
Narrator: George Guidall
Published: 11/11/2003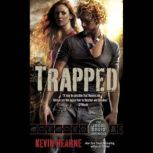 Trapped (The Iron Druid Chronicles, Book Five)
by
Kevin Hearne
After twelve years of secret training, Atticus O'Sullivan is finally ready to bind his apprentice, Granuaile, to the earth and double the number of Druids in the world. But on the eve of the ritual, the world that thought he was dead abruptly ...
Narrator: Luke Daniels
Published: 11/27/2012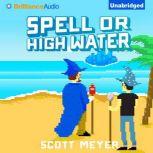 Spell or High Water
by
Scott Meyer
The adventures of an American hacker in Medieval England continue as Martin Banks takes his next step on the journey toward mastering his reality-altering powers and fulfilling his destiny. A month has passed since Martin helped to defeat the evil p...
Narrator: Luke Daniels
Published: 06/17/2014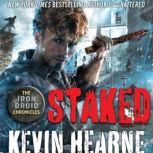 Staked
by
Kevin Hearne
NEW YORK TIMES BESTSELLER • Iron Druid Atticus O'Sullivan, hero of Kevin Hearne's epic urban fantasy series, has a point to make—and then drive into a vampire's heart. When a Druid has lived for two thousand ye...
Narrator: Luke Daniels
Published: 01/26/2016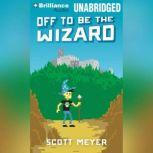 Off to Be the Wizard
by
Scott Meyer
An io9 Can't Miss Science Fiction and Fantasy title in March 2014.Martin Banks is just a normal guy who has made an abnormal discovery: he can manipulate reality, thanks to reality being nothing more than a computer program. With every use of this a...
Narrator: Luke Daniels
Published: 03/18/2014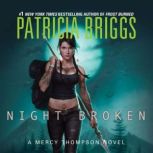 Night Broken
by
Patricia Briggs
"These are fantastic adventures, and Mercy reigns." —SFRevu#1 New York Times bestselling author Patricia Briggs's Mercy Thompson series has been hailed as "one of the best" (Fiction Vixen Book Reviews). Now Mercy ...
Narrator: Lorelei King
Published: 03/11/2014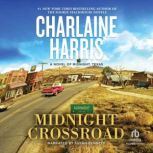 Midnight Crossroad
by
Charlaine Harris
FIRST IN A NEW TRILOGY - From Charlaine Harris, the bestselling author who created Sookie Stackhouse and her world of Bon Temps, Louisiana, comes a darker locale-- populated by more strangers than friends. But then, that' s how the locals prefer it...
Narrator: Susan Bennett
Published: 05/02/2014

About the Author
A self-described "feral child who was raised in libraries," Gaiman credits librarians with fostering a life-long love of reading: "I wouldn't be who I am without libraries. I was the sort of kid who devoured books, and my happiest times as a boy were when I persuaded my parents to drop me off in the local library on their way to work, and I spent the day there.

Gaiman began his writing career in England as a journalist. His first book was a Duran Duran biography that took him three months to write, and his second was a biography of Douglas Adams, Don't Panic: The Official Hitch Hiker's Guide to the Galaxy Companion. Gaiman describes his early writing: "I was very, very good at taking a voice that already existed and parodying or pastiching it." Violent Cases was the first of many collaborations with artist Dave McKean. This early graphic novel led to their series Black Orchid, published by DC Comics.

The groundbreaking series Sandman followed, collecting a large number of US awards in its 75 issue run, including nine Will Eisner Comic Industry Awards and three Harvey Awards. In 1991, Sandman became the first comic ever to receive a literary award, the 1991 World Fantasy Award for Best Short Story.

Neil Gaiman is credited with being one of the creators of modern comics, as well as an author whose work crosses genres and reaches audiences of all ages.

Neil Gaiman writes books for readers of all ages, including the following collections and picture books for young readers: M is for Magic (2007); Interworld (2007), co-authored with Michael Reaves; The Day I Swapped My Dad for Two Goldfish (1997); The Wolves in the Walls (2003); the Greenaway-shortlisted Crazy Hair (2009), illustrated by Dave McKean; The Dangerous Alphabet (2008), illustrated by Gris Grimly; Blueberry Girl (2009); and Instructions (2010), illustrated by Charles Vess.

Gaiman is the New York Times bestselling author of the novels Neverwhere (1995), Stardust (1999), the Hugo and Nebula Award-winning American Gods (2001), Anansi Boys (2005), and Good Omens (with Terry Pratchett, 1990), as well as the short story collections Smoke and Mirrors (1998) and Fragile Things (2006).

His first collection of short fiction, Smoke and Mirrors: Short Fictions and Illusions, was nominated for the UK's MacMillan Silver Pen Awards as the best short story collection of the year. Most recently, Gaiman was both a contributor to and co-editor with Al Sarrantonio of Stories (2010), and his own story in the volume, The Truth Is A Cave In The Black Mountains, has been nominated for a number of awards.

American Gods has been released in an expanded tenth anniversary edition, and there is an HBO series in the works.

Gaiman was the first author ever to win both the Newbery Medal and the Carnegie Medal with the same book. "Twenty-three years ago, we lived in a little Sussex town in a tall house across the lane from a graveyard. We didn't have a garden, and our 18-month-old son loved riding a tricycle. If he tried riding in the house he would have died because there were stairs everywhere, so every day I would take him down our precipitous stairs, and he would ride his little tricycle round and round the gravestones. As I watched him happily toddling I would think about how incredibly at home he looked. I thought that I could do something like The Jungle Book with that same equation of boy, orphaned, growing up somewhere else, but I could do it in a graveyard. I had that idea when I was 24 years old. I sat down and tried writing it and thought, "This is a really good idea, and this isn't very good writing. I'm not good enough for this yet, and I will put it off until I'm better."

The film adaptation of The Graveyard Book is in production.
AudiobooksNow review by Eugenia on 2008-01-18 15:52:35
On the surface, Gaiman's novel appears to be modeled on the myths and stories of gods and goddesses, albeit set in contemporary America with the hero serving as a vehicle to explore this world. However, as this mythical world is explored, the metaphysical underbelly of America is revealed as well. Although it is a surprising treatise on certain qualities of America, such as its history of immigration of people and their ideas, diversity of culture and the innate wildness of the New World, it is also a contemplative journey of fantasy. Gaiman's novel reads much like a road trip of both literal and metaphorical natures, accompanied by the subtle transformation of the reader and the hero.
AudiobooksNow review by Nate on 2009-02-25 01:41:12
This book rambles innanely through some really lame characters and tellings, but that's OK. I find about 25 of the books I choose end up as background noise. I still usually listen to them all the way thru. In this case the person vocalizing the book is changed out about 1/3 of the way thru the book either that or his voice drastically changed!, but both narrators are pleasant to listen to. About a 1/2 way thru the books ramblings there is a needless sexual encounter between two men. I am an open-minded person and am pretty much live and let live, but I am disappointed that I had to waste the time of getting 1/2 way into a book only to be ***aulted by something that offended me-with no warning. If there had been some hint early on that the author was a queer with an agenda, I simply wouldn't have started the book. I'm disappointed with Books4Free that they don't give people some insight into this type of subject matter. If some choose to go for that stuff, so be it for them. I am seriously considering dropping my subscription over this.
{"id":"171088","ean":"9780062101914","abr":"Unabridged","title":"American Gods: The Tenth Anniversary Edition: Full Cast Production","subtitle":"Full Cast Production","author":"Neil Gaiman","rating_average":"4.43","narrator":"George Guidall","ubr_id":"171088","abr_id":"0","ubr_price":"36.99","abr_price":"0.00","ubr_memprice":"22.19","abr_memprice":"0.00","ubr_narrator":"George Guidall","abr_narrator":"","ubr_length":"Unabridged: 19 hr 39 min","abr_length":"Abridged: "}