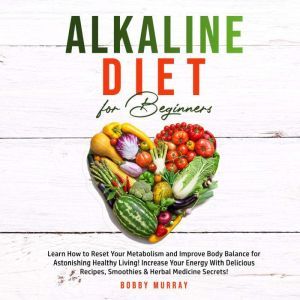 List: $15.97

| Sale: $11.18
Alkaline Diet for Beginners: Learn How to Reset Your Metabolism and Improve Body Balance for Astonishing Healthy Living! Increase Your Energy With Delicious Recipes, Smoothies & Herbal Medicine Secrets!
Format: Digital Audiobook Download
---
Synopsis
If You Are Looking to Reset Your Metabolism & Improve Body Balance for Healthy Living, Then this is the Perfect Audio Guide for You!Discover the Amazing Guide on Alkaline Diet for Beginners by a Successful Author - Bobby Murray!Are you searching for a diet that will improve your life for better and increase your energy levels?Have you tried different diets in the past, but gave up since you didn't see any results?This amazing audio guide was created mainly for beginners who are searching to discover many secrets alkaline diet has. An alkaline diet uses organic products, vegetables, and whole grains to advance alkalinity in blood and urine. This audio guide will teach you everything there is about an alkaline diet, including different definitions, terms, benefits, and more!Here's what you can learn:• What is alkaline diet and what is the secret behind its success• How to lose weight by practicing the alkaline diet• What is pH and why is it important to pay attention to it• Discover the best way to lead the alkaline lifestyle• How to prepare delicious alkaline recipes• And much more!Are you ready to try out the alkaline diet, and change your life for the better?Scroll up, click on "Buy Now", and Start Listening Now!