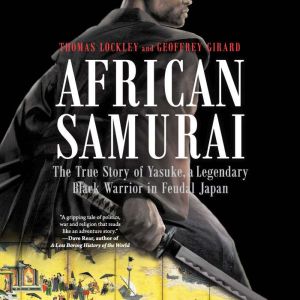 List: $27.99

| Sale: $19.59
African Samurai


The True Story of Yasuke, a Legendary Black Warrior in Feudal Japan

Format: Digital Audiobook Download

Includes: Bonus Material

---
Synopsis
Warrior.

Samurai.

Legend.

The remarkable life of history's first foreign-born samurai, and his astonishing journey from Northeast Africa to the heights of Japanese society.

When Yasuke arrived in Japan in the late 1500s, he had already traveled much of the known world. Kidnapped as a child, he had ended up a servant and bodyguard to the head of the Jesuits in Asia, with whom he traversed India and China learning multiple languages as he went. His arrival in Kyoto, however, literally caused a riot. Most Japanese people had never seen an African man before, and many of them saw him as the embodiment of the black-skinned (in local tradition) Buddha. Among those who were drawn to his presence was Lord Nobunaga, head of the most powerful clan in Japan, who made Yasuke a samurai in his court. Soon, he was learning the traditions of Japan's martial arts and ascending the upper echelons of Japanese society.

In the four hundred years since, Yasuke has been known in Japan largely as a legendary, perhaps mythical figure. Now African Samurai presents the never-before-told biography of this unique figure of the sixteenth century, one whose travels between countries, cultures and classes offers a new perspective on race in world history and a vivid portrait of life in medieval Japan.