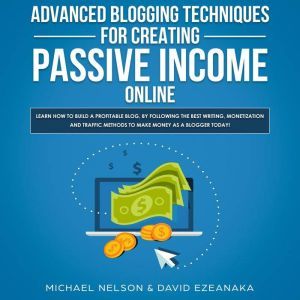 List: $19.95

| Sale: $13.97
Advanced Blogging Techniques for Creating Passive Income Online: Learn How To Build a Profitable Blog, By Following The Best Writing, Monetization and Traffic Methods To Make Money As a Blogger Today!
Format: Digital Audiobook Download
---
Synopsis
If you would like to create a successful Blog to bring in years of passive income, then keep reading…Do you have issues gaining organic traffic to your website? Monetizing your blog in multiple proven ways? Crafting an advanced looking website without having to learn how to code? Or perfecting the perfect blog post? If this is the case, inside of this audiobook several leaders in the blogging space have shared their personal knowledge on how to beat these problems and more.Within this complete guide, you will be taught:• How a particular writing strategy can help you to create the perfect blog post.• The one all-round method on how you can create an advanced looking website for your blog with 13 simple steps.• Proven monetization techniques that can significantly boost your blog's income.• How to utilize secret marketing strategies that can bring in high amounts of relevant visitors to your site.• And much, much more.The proven methods and pieces of knowledge within this book are so easy to follow. Even if you've never heard of blogging before, you will still be able to get to a high level of success.Would you like to know more?Then "BORROW" or "Buy Now" if you want to live your dream lifestyle and build a blog you can be proud of!