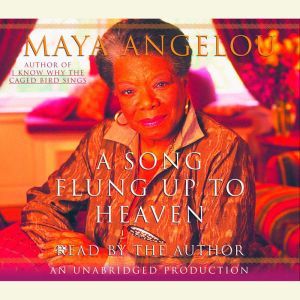 List: $12.50

| Sale: $9.00
A Song Flung Up to Heaven
Format: Digital Audiobook Download
---
Synopsis
The culmination of a unique achievement in modern American literature: the six volumes of autobiography that began more than thirty years ago with the appearance of I Know Why the Caged Bird Sings.

A Song Flung Up to Heaven opens as Maya Angelou returns from Africa to the United States to work with Malcolm X. But first she has to journey to California to be reunited with her mother and brother. No sooner does she arrive there than she learns that Malcolm X has been assassinated.

Devastated, she tries to put her life back together, working on the stage in local theaters and even conducting a door-to-door survey in Watts. Then Watts explodes in violence, a riot she describes firsthand.

Subsequently, on a trip to New York, she meets Martin Luther King, Jr., who asks her to become his coordinator in the North, and she visits black churches all over America to help support King's Poor People's March.

But once again tragedy strikes. King is assassinated, and this time Angelou completely withdraws from the world, unable to deal with this horrible event. Finally, James Baldwin forces her out of isolation and insists that she accompany him to a dinner party—where the idea for writing I Know Why the Caged Bird Sings is born. In fact, A Song Flung Up to Heaven ends as Maya Angelou begins to write the first sentences of Caged Bird.