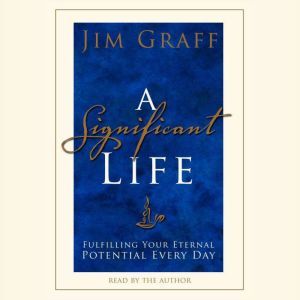 List: $20.00

| Sale: $14.40
A Significant Life


Fulfilling Your Eternal Potential Every Day

Format: Digital Audiobook Download
---
Synopsis
Are you yearning to live a life that matters?
Many people wrestle with their significance. If you're one of them, Jim Graff understands. And in his life-changing new book, he offers incredible insight and inspiration that can change the course of your life.
A Significant Life helps you understand how to own your own worth–which is given and anointed by God–and live a more purposeful life. As a result, you'll see an amazing transformation…not only in your life, but also in your church and community.
Drawing on biblical models such as David, Esther, and Jesus himself, Jim shows you how personal courage, integrity, and determination can turn sparks into a holy fire. He'll help you grab hold of the ways God wants you to be blessed. Learn to live your heart's desire. And go out into the world as a person transformed with God-ordained significance.

In A Significant Life, Graff reveals five keys that will give you the resources and the inspiration to live at your full potential as a person of eternal significance.
Owning and living out of your true significance occurs by:
·Developing Confidence
·Being a person of Character
·Concentrating on God's will
·Cooperating with God (and others) in carrying out God's plans, and
·Participating in Community
Discover the importance and impact of these five C's in your life as you learn to live authentically within God's unique design for you. And begin to own your God-given significance by living a purposeful life every day.


From the Hardcover edition.