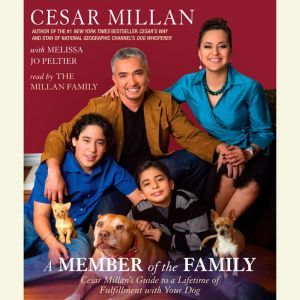 List: $15.00

| Sale: $10.80
Club: $7.50
A Member of the Family


Cesar Millan's Guide to a Lifetime of Fulfillment with Your Dog

Format: Digital Audiobook Download
---
Synopsis
Many of us think of our dogs not as pets but as full-fledged members of our families. If you own a dog—or are thinking about getting one—A Member of the Family is the ultimate resource for integrating your canine companion into the life of your household.

What should you do if you need to leave your dog alone at home while everyone is at work? Are you providing him with the exercise he needs? How can you make sure your children and dog get along well? How do events in the human family—such as birth, marriage, or divorce—affect the family dog? All of these questions and many more are answered by bestselling author Cesar Millan in his new book.

Brimming with practical tips and techniques, A Member of the Family addresses the most common issues and questions that emerge over the course of a person's lifetime relationship with a dog, explaining what it takes to be a good dog owner. From choosing the right dog for your particular family's needs to setting the rules of the house (yes, you and your family are in charge) to finding a quality veterinarian and monitoring your dog's health, Cesar offers essential advice for a harmonious home. No topic is left untouched. With success stories from Cesar's fans and clients throughout, A Member of the Family includes sections on travel and doggie day care, the needs of an aging dog, and dealing with the death of a pet and its long-lasting effects on a family. A chapter on dogs and children is written from the perspective of Cesar's sons, Andre and Calvin, and one on the role of the strong female pack leader is by Cesar's wife, Ilusion.

In his frank, simple, and calm manner, Cesar acts as your personal guide as you build a fulfilling, satisfying relationship with your dog.


From the Hardcover edition.