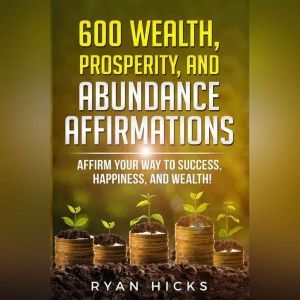 List: $9.99

| Sale: $7.00
Club: $4.99
600 Wealth, Prosperity, And Abundance Affirmations
Affirmations Of Success, Happiness, And Wealth!
Format: Digital Audiobook Download
---
Synopsis
These affirmations are going to help move your mindset to the next level of wealth and help you to renew your subconscious mind to the truth about how you deserve wealth, riches, abundance, prosperity, happiness, health, and peace. These affirmations are specifically related to wealth, prosperity, and abundance. They are intended to get you in harmony with God's infinite abundance that is freely available to all. By reading and applying the words in this book you will learn how to make these affirmations a part of your very being. In doing so you will soon understand how worthy you are of being wealthy, prosperous, and abundant!