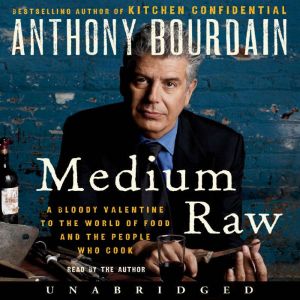 Anyone who is familiar with food critic, Anthony Bourdain, is familiar with his most of the time brash and bawdy language when he is describing food and restaurant experiences. In his first book, Kitchen Confidential, there were many who criticized his, what they observed as, overuse of tawdry language. He contends that it was the descriptively best to use in rants about food and cooking failures along the way. After serving as a journeyman cook, he became a world traveler giving elaborate prose on what he has seen and heard from the most prestigious chefs in the world.
In his newer work, Medium Raw, it has been said that he is a bit gentler in his descriptive language, and just a little kinder to those that he had previously ripped apart. Some give kudos to his status change as a father to a three year old daughter. It was humorous to read that he is already educating his daughter as to the evils of American fast food. One quote had him telling her……the fast food industry is the enemy……that Ronald McDonald has cooties and stinks like…..poo! Poor child!
In Medium Raw, Bourdain gives a witty and insightful view of the culinary world. He describes the many changes that have taken place in the subculture of chefs, cooks, the restaurant business, and in his personal life in the ten years since he wrote Kitchen Confidential. One recommendation was to listen to an audio book version of the book. Hearing his own voice tell the stories gives the book another added dimension.
It was with great sadness that the world learned of Bourdain's suicide by hanging in June of this year, while in France.
Get your digital audio copy today!