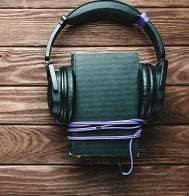 There are so many advantages to an audiobooks download. Not only are they an increasingly popular way to enjoy books, there are a few other reasons why they are amazing. Here are 6 reasons why audiobooks are the best way to consume books!
1. Multi-Tasking
Audiobooks are great for finishing a book while completing other tasks around your home or office. You can enjoy having a book read to you while you work on another mindless task, such as washing dishes, going for a jog, or sitting in traffic. So make laundry fun, with an audiobooks download.
2. Provide Company
In a world that is full of people, we can sometimes still feel alone. This is where audiobooks can be a great companion. Need someone to accompany you on a long road trip? Audiobooks are great to take with you! Need a soothing voice to help you fall asleep? There are audiobooks for that too.
3. Make Reading Accessible for Everyone
The wide range of books that are available in audio format is incredible. Everyone regardless of their reading ability, eyesight, or physical or mental ability deserves the chances to escape into the worlds created by books. Audiobooks allow everyone to enjoy a good book!
4. Help Reluctant Readers Learn to Love Reading
Anyone who struggles to read, may not have had the privilege of experiencing the joys that can be found in books. Sometimes listening to books instead of reading them is the ticket to get them exposed to the joys of reading and the secrets that are contained within books.
5. Fit in Your Pocket
Audiobooks can be downloaded to your smartphone or an MP3 player, meaning that they can easily fit in your pocket and take it everywhere with you. You'll never have to worry about not having your book with you, as they will be in your pocket!
6. Read in the Dark
Power out? Trying to sleep? No problem, audiobooks allow you to still enjoy your favorite books! Audiobooks can be consumed and enjoyed anywhere, at any time.
AudiobooksNow is a great place to find your favorite audiobooks. Enjoy your favorite pastime without having to carve out time to sit down with a print book. Always take your book with you and never be left in suspense.