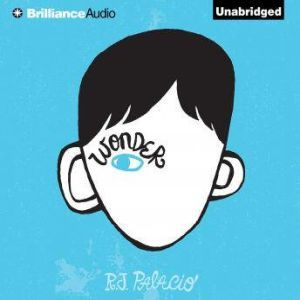 "It's okay, I know I'm weird-looking, take a look, I don't bite"…… and such is the story-line for author, R. L. Palacio's newest book…Wonder. It has always been a mystery to me why anyone can be non-compassionate, when it comes to treating others who have challenges or frailties. If you are fortunate and blessed to be what we think of as "normal", then that should make it compulsory to be kind and sympathetic to those who were not so fortunate. The story of August (Auggie) Pullman shows the kind side of kind people, and the cruel side of cruel people……with not all cruelty coming from his child peers……hard to believe that adults would ever be as cruel as they sometimes are.
Auggie is just 10 years old, and is starting in a private school for the first time. He has a very severe facial deformity that causes others to feel very sorry for him, or very cruel to him. He has a great attitude, as evidenced by the first sentence of this review, but even with the best attitude, his everyday life is full of very high moments as well as those dreaded low ones. Author Palacio captures the story of Auggie's personal growth as well as others who surround him each day. It is a complicated web of emotions among family and friends as they cheer for him as he learns some of life's hardest lessons.
Whether author Palacio had intended it or not, the book has spurred a new discussion of showing compassion and a sense of humanity when interacting with those who through no fault of their own, have physical or mental challenges. Hopefully, those who read the book, or see the movie, will either reinforce their current sensitivity toward those like Auggie, or will have a change of heart and develop the sensitivity they should have as a human being.
Get your digital audio copy today!!