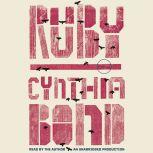 Cynthia Bond is a new American writer among current fiction novelists. She has spent fifteen years teaching at-risk and homeless youth the art of writing in the Los Angeles area. She has studied at Northwestern University's Medill School of Journalism, as well as the American Academy of Dramatic Arts in New York.
"Full of life, exquisitely written, and suffused with the pastoral beauty of the rural South, Ruby is a translucent novel of passion and courage." Ephram Jennings has never forgotten Ruby Bell, the beautiful, young girl from Liberty, Texas. He once described her as "the kind of pretty it hurts to look at". Ruby is an epic story of a young man trying to protect the woman he has loved forever. He will find himself having to make difficult choices to have a chance at a life with Ruby.
There are unforgettable characters, exciting suspense, and written in exquisite prose. Ruby represents the dark side of human nature with the promise of redemption and healing through the power of love. Ruby is the newest of Oprah's Book Club 2.0 selections.
Get your digital audio copy today!!!