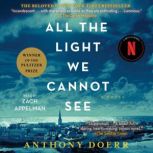 Author, Anthony Doerr, wrote a novel about World War II that proved to be very beautiful and very inventive. There have been so many books written about WW II, but this author chooses to base his novel more on the inside lives of the two main characters, and use the war as a backdrop for their story. This book is not read for plot or characters, even though both are beautifully executed. This novel is most appreciated because of the beauty with which Doerr writes.
The two characters who are followed throughout the book are Marie – Louise, a blind girl who resides in France, and a German, Werner, whose skills lead him to be a participant in the most brutal Hitler's Youth. Their paths cross when they each end up in the coastal city of Saint-Malo. But, they are there for totally opposite reasons. Doerr writes with such an unusual understanding of "the magical obsessions of childhood".
Werner and Marie – Louise are never considered quaint or sweet, but instead, are powerful examples of average people who are surviving in trying times. "They must decide daily between morality and survival."
Get your digital audio copy today!!!