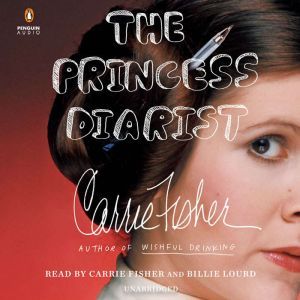 Many have written reviews of The Princess Diarist by author and actor, Carrie Fisher. Some were dated before her very untimely, sad death, followed closely by the death of her Mother, Debbie Reynolds. They were so very close, that many have surmised that Debbie passed from a broken heart when she lost her beloved daughter. It is with respect and sadness that this review is written.
Upon discovering the journals which had been left under floor boards for forty years, author Carrie Fisher decided to write a memoir of sorts that commemorated her iconic first film, Star Wars that was shown in 1977. Back then, Carrie was just a teenager who made the usual awkward mistakes that many experience, except that hers were recorded and published for all to see, given her new celebrity status, and the Hollywood Royalty that were her Mother and Father (Debbie Reynolds and Eddie Fisher). It is difficult enough for the average child to go through the breakup of their parents, but one can only imagine how bizarre it must have been to have been a child involved in the Liz Taylor, Eddie Fisher and Debbie Reynolds triangle. The press had a field day, which caused great sorrow for Debbie and her daughter.
The Princess Diarist has been described as extremely honest, humorous, and sad all at the same time. The torture it must have been on the Hollywood "roller coaster", when one minute you are the latest darling in your metal bikini, and the next minute those same people treat you with such cruelty.
Carrie Fisher speaks about herself…….about her addictions, her bad choices in love, her sarcasm, and her love for Princess Leia. "It is a look inside the head of a young, inexperienced woman, who loved the wrong man, and fell into sudden fame……..funny, wise and insightful…….a great read for women, who are Star Wars fans, and have loved Han Solo for as long as they could remember".
Get your digital audio copy today!!