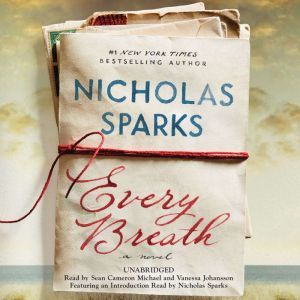 American romance novelist, Nicholas Sparks, has written many award winning novels, with several having been adapted to film. His work has been enjoyed by millions all over the world. In his newest offering, Every Breath, the age old dilemma of making choices from the heart or from reality hits home. Almost everyone has had to make a similar decision, and it is never an easy choice.
Hope Anderson has been with her orthopedic surgeon boyfriend for six years, and does not see any signs of a commitment being made. She is thirty-six years old, and had always thought she would be married by now. And to make matters even worse, her father has been diagnosed with the life ending disease, ALS. Hope must now go to their Sunset Beach, North Carolina cottage to refresh it to begin the sale process. She will use the time to think about possible decisions she must make about her future.
Tru Walls is on an adventure of his own. He received a message from a man claiming to be his father. He was invited to Sunset Beach to meet this man to find out if he was the father he had never met. He made the long trip there from Zimbabwe, to lear
n more about his mother's early life. She passed away before he was able to find out details from his mother.
When Hope and Tru cross paths, it seemed to be love at first sight. Neither ever imagined that such a connection would ever happen, but here they both were at a most vulnerable time. Every Breath explores that mysterious time when each character has life changing decisions facing them, and now, how will their new found love influence those decisions?
In the same romantic tradition as previous Nicholas Sparks novels…….The Notebook, Nights in Rodanthe…….a chance encounter becomes a touchstone for two vastly different individuals. Readers will wonder if this novel will follow the previous two mentioned, to become an extremely popular movie. Time will tell.
Get your digital audio copy today!!