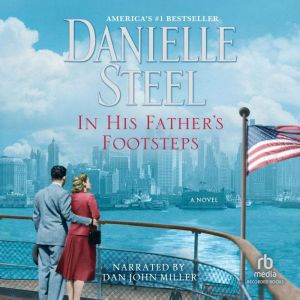 There have been many stirring novels about the holocaust, and this novel by Danielle Steel, In His Father's Footsteps, is a very poignant story about two holocaust survivors, and their struggle to rediscover life. The question is…..will the second generation of these survivors have an easy time in their own lives, or will they also face challenges.
Friends Jakob and Emmanuelle have gratefully survived a horrible ordeal, and now they moved to New York's Lower East Side. They could only find jobs that were very physically grueling, and the pay was terrible. But, they flourished and had a son, Max, whom they never wanted to have to ever start from the bottom as they did.
Max becomes extremely successful. He is a well-educated Harvard graduate and uses the wise advice that came from his father to build a very successful real estate venture. He also finds who he thinks is the love of his life, which led to an elaborate ceremony and a magnificent wedding. Along the way, Max is burdened to the point of stress, as he finds out his wife is not the person he thought she was.
Max finds himself faced by challenging situations which make him consider re-evaluating his plan for his life and his children. The irony is a struggle like his parents before. He must climb his way out of the ruins to save his family.
Get your digital audio copy today!!