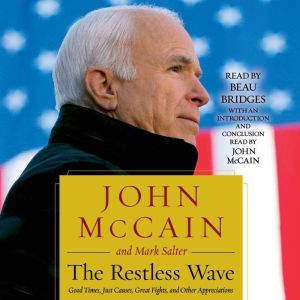 The memoir written by Arizona Senator John McCain, has even more significance now since his recent death. He had been in another war, this time, a personal one, with an inoperable brain tumor. During his terminal illness, he wrote his newest book: The Restless Wave: Good Times, Just Causes, Great Fights and Other Appreciations.
McCain writes his final book describing his personal history including the 2008 presidential campaign against Barack Hussein Obama, along with his crusades on behalf of democracy and human rights in third world countries. He includes stories of his most satisfying career moments of public service. Those who read, "Faith of My Father's…..A Family Memoir", consider it helpful in understanding McCain in his most current book.
Many readers find McCain to be more aligned with progressives than with the party he represented. They appreciate what they perceive to be his maturity in thinking and approach to issues. They firmly believe his voice resonates for politicians and citizens alike. He was an Arizona Senator, but was born in Panama and traveled the world. The experience as a Vietnam prisoner of war also played an important role in his vision. Rest in peace, Senator John McCain.
Get your digital audio copy today!!