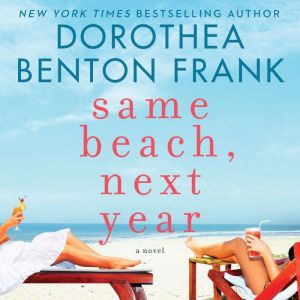 The Lowcountry of South Carolina is author, Dorothea Benton Frank's favorite location for her acclaimed beach books. Some readers determine their signal of true summer and beach time by the addition of a new book from author Frank. Her book, Same Beach, Next Year, continues to give her readers another great story to include in their beach bag. What could serve as a better backdrop for a summer book…… ocean breezes, the beaming sunshine, fruit filled cocktails, and a beautiful, starry night……lending to those promises of excitement in love and friendship. Such is the setting for Same Beach, Next Year.
In one particular summer, two unlikely couples begin a friendship that lasts more than two decades. Every year, Adam and Eliza and their twin boys spend a few weeks on Isle of Palms, which is not far from their home. Adam owns a very successful construction business and Eliza is a great cook with aspirations of writing a cookbook. This particular year, a new couple rents the condo next door. As it turns out, the wife is Eve, who was Adam's first love in high school…….pretty coincidental. Eve is married to Carl, who is a pediatrician, and hardworking in his own right. They have one daughter who is about the same age as the twin boys. The two couples also have parents who come with them to help with the children. The two families hit it off and become fast friends who then go back to the same places each year for several years.
Readers say that this format is a departure from Frank's usual format, which they were pleased to see. Most reviewed it as a very moving story with well-developed characters and a good narrative from the couple of Adam and Eliza. They seem to be stuck in the past……each for different reasons. Eliza, even though thought to be quite shallow, was an obvious voice of reason among the four. The book follows their stories of both ups and downs, leaving the reader having no idea how the relationships would mature until the very end of the book. Most readers agreed that they were sorry to see the book end. Their testament to a very good novel.
Get your digital audio copy today!!